[ Home ] [ GPO Sponsors ] [ GPO-Pictures ] [ GPO-Contest ] [ Add & Update ] [ World Map ] [ Members-1 ] [ GPO ] [ Fun ]

Joe Dillet presents...

The Great Pig Out at
"The Carving Shop"
645 LaSalle St
Somonauk, IL 60552

September 17, 18, 19
1999


We had a great time, but now it's over.


Jud Hindes Jud Hindes was master of ceremonies.

---
Various activities included:

The Great Pig! and Turkey!
Carving display, and People's choice balloting!
Golf ball carving contest entries, and again, People's choice balloting!
The Boring Contest! with official judging!
Bonfire, Music, dancing socializing, eating, drinking, and making merry!
Technical demonstrations including sign carving, Arbortech carving, and other!
Vendor's tables by sponsors of the GPO!
On site Whittling Contest with details to follow.
On site Carving Secret Sharing Session with details to follows.

-------

Please visit the GPO Sponsors page

Hotel information:
The closest motel is in Yorkville Illinois, about 10 to 12 miles from the GPO. The number for the Yorkville Super 8 Motel is (630) 553-1634. The rate for double occupancy is $62 per night includes tax, with AARP discount is $55.80 includes tax.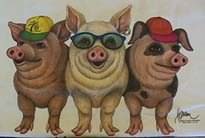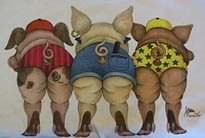 These pictures are of the front and back of the T-shirt Joe got for Jud, his good friend Howard, and himself to wear at the "Great Pig Out".


---