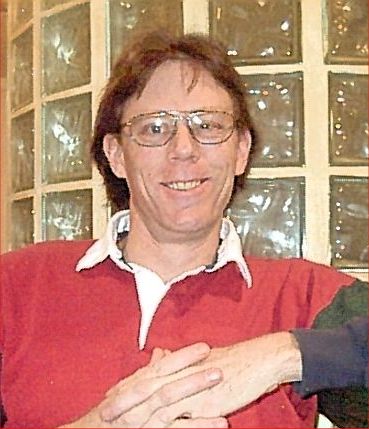 Jud Hindes: Owner of the Wood Carvers Porch Mailing List. Jud started whittling in 1967, and continued with a dull knife for many years, inspired by M C Escher, and E J Tangerman. In 1980-83 he studied art with Knox Martin in NYC, and life has never been the same, nor his carvings! Three term President of New England Wood Carvers, Carver of the Year in 92, many awards and articles, and owner of the Porch list, now, he mostly talks! eJUD@go.com

Bob Morris: Web-Master of the Wood Carvers Porch , 64 years young, married ( she doesn't scrollsaw, wood burn or carve ) but then I don't knit, cross stitch or crochet. Five kids all grown. Retired 5 years and enjoying every minuet of it. Visitors are always welcome at The Wooden Horse Studio, Lakeview, Ohio USA. Fine contemporary Carousel Carvings, Scrollsaw, Pyrographic Art http://www.woodenhorsestudio.com
bmorris@woh.rr.com



Lisa Johnstone: Manager of the Wood Carvers Porch web pages from 1998 to 2001, I live in a small Oregon town where I married my highschool sweetheart back in '82, and have two great kids. I have only just started carving, picking up my first carving knife the end of May '98. My Homepage is at http://www.viser.net/~lisajohn/ where you can find out everything you ever wanted to know and even the things you didn't. *grin*

Amy Joslyn: Richmond Hill, Ontario, Canada. Proud to be the first post on the woodcarvers porch. Enjoy both "chatting" and "carving" and being retired have plenty of time for both. Visit my web page where I have a "come and meet me page". http://geocities.com/SoHo/Square/1660/index.html


Larry Oxford: I am 53, retired from the U.S. Navy and live in Orange, Texas with my Canadian Sweetheart and an Australian Shepherd puppy named Smokey. I am a fairly new woodcarver and am also a leather craftsman. My chat nickname is "Leathertoolz" which was derived from a combination of my two hobbies. ICQ UIN 846985 http://members.tripod.com/~leathertoolz/index.html
See Photo's of my work, and other stuff, at Photo Point http://albums.photopoint.com/j/AlbumList?u=17628

Laura Oxford: 42 married to the "old" retired sailor. I don't carve (yet) but am learning pyrography. I want to thank all the porch sitters who have encouraged me and said nice things about my first few attempts.





Cathy Krumrei: Grand Rapids, Minnesota. I started carving in 1996. Married 35 years in 2005, my husband Darryl, enjoys building RC planes, together we have 2 sons, both married-and total of 10 grandkids. The Porch is a great way to be able to learn from others whom are willing to share. Please visit my Home pages-http://www.TheCarversCorner.com


Hal Flood: I live near Mansfield Missouri, in the heart of the Ozarks,with my wife and granddaughter. I retired five years ago and since joining the ranks of the "Outa Work for Pay Group:--- I can't imagine how I ever had time to "go" to work. After a long absence from carving, I have returned and I'm enjoying it more each day. My wife has our website up and one of these days she will be adding my carving page --- in the meantime stop by our farm for a visit. http://www.oakridgefarm.com/


Ron Bender: I live in Connecticut with my two children and wife Donna. I'm an Amateur carver and have been doing it from time to time since high school. I've only just started seriously trying to improve and stretch my abilities since last year. (The kids are old enough now that I can forget to put a Knife away without fear). My Nick on chat is box. rbender@esslink.com



Jerry R. Polan: I am 52 years young and live in La Pine, Oregon with my wife of 30 years. I have been carving birds full time for 20 years. I am active in the Pacific Flyway Decoy Association as a contestant, board member and judge. For recreation I enjoy flyfishing, which I occasionally do too much of when the fish are cooperating. My web page is at: http://members.aol.com/woodenfthr/index.html



Matt Kelley: is a business manager, IT Div., Univ. of Mich.-Ann Arbor (Go Blue!) and lives in Flushing, MI. He has been married 26 years, has two sons, and a West Highland White Terrier named Sargeant Major. Primarily a caricature carver, he is also exploring other forms. Visit his Carving page and the CelticCarver Gallery at http://www-personal.umich.edu/~wmkelley/Woodwork.html Matt is also coordinates the World Wide Woodcarver Exchange (W3E) and the W3E Friendship Cane Division. http://www%20personal.umich.edu/~wmkelley/W3E_Home.html http://www-personal.umich.edu/~wmkelley/W3E_FCD_Home.html


Joe Dillett: jdillett@thecarvingshop.com I'm 55, married to my very understanding wife, Sharon for 34 years. We have 2 children and 4 grandchildren. I've been in the carving business over 26 years, mostly part-time. I carve almost anything but most of my business is fireplace mantels, church and architectural carvings, and patterns for different industries. I love talking to my fellow carvers and never plan to retire. http://www.thecarvingshop.com/




Terry Nees: msgtusmc@swbell.net Been carving(whittling) about 9 years. No particular specialty as long as it doesn't have to be realistic. Retired from US Marines in 1981 and then had to work for a living. Retired with disability in 1997. Worked as a mainframe computer programmer/trouble shooter for about 35 years. Love animals. In fact, that's what I carve mostly. Want to learn caricature carving if I ever get the time.


Don Burgdorf:

"Ol' Don" Burgdorf ol'don@artofdon.com Ol' Don is retired after going over a hill he never saw but was told he went over. He keeps busy with carving, painting and drawing, is a regular contributor to "Chip Chats" with his "Doodles 'n Notes for carvin' Folks" feature and draws patterns for the Porch's pattern page and E-zine. Ol' Don and his wife live in Nashville, TN. They have 3 children, 9 grandchildren and a great-grand baby. He has learned that "Life consists not in holding good cards, but in playing well those you do hold". You're invited to visit his on-line studio/gallery of paintings and carvings at http://artofdon.com/ oldon@earthlink.net See Photo's of my work, and other stuff, at Photo Point http://albums.photopoint.com/j/AlbumList?u=18637


Julie Arms. Getting pretty close to 40 (and I admit it!). I live in Decatur, GA with my daughter Morgan who's in high school and a beginning chip carver. I have carved off and on for 8 years, mostly in the round, though I learned to chip carve a lifetime ago. Like Terry, I'm a former Marine, though these days I'm a legal secretary.Ask me if there is anything else you want to know... JAArms@aol.com