[ Home ]
[ Up ]
[ GPO Sponsors ]
[ GPO-Pictures ]
[ GPO-Contest ]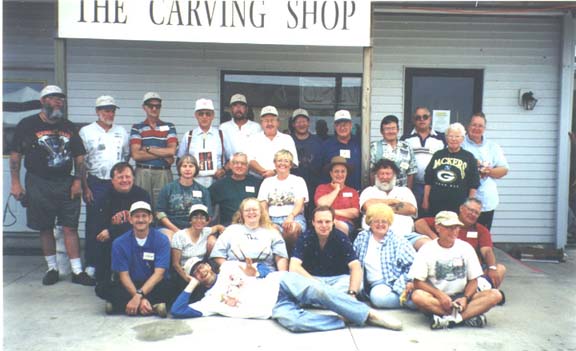 Center front: Jud Hindes (list owner)
Row 1: Steve Klein, Cathy Krumrei, Lisa Johnstone, Mike Huber, Carol Fogle, Alex Bisso, and Dan Kersey.
Row 2: Bob Mau, Sandie Rossa, Joe Dillett, Marcie Moore, Ainslie Pyne, and Craig Watson.
Standing Row: Monty Montgomery, R.L. Owen, Bob Morris, Curt Kenyon, Deno Simpson, Matt Kelley, Loren Woodard, Bill Allen, Terry Nees, Bob Delaney, JoAnn Thomas, and Bernice Haagenson.

GPO Pictures
"Great Pig Out"

We all had a great time at the GPO and want to share some of the fun with you.
Take a look at the pictures some of our members took.
---


Jud, our dear list owner, decided we should all get together and make Joe a wooden quilt. Look how great it turned out.
3X3
Here is Jud's GPO pictures
GPO

Marcie was the first to be able to upload pictures for your viewing. Thanks Marcie!
GPO Page 1
GPO Page 2

Cathy got some great shots too! :O)
GPO 1999

Ol' Don got some Live Cam shots saved for us to see. Good going Don!! :O)
GPO Live Clips


Here is Monty's GPO picture album
GOP, Joe's Place


---